IKIMOKYKLINIO AMŽIAUS VAIKŲ TĖVŲ ŽINIOS APIE DANTŲ GYDYMĄ SEDACIJOS IR BENDROSIOS NEJAUTROS ATVEJU BEI BURNOS PRIEŽIŪRĄ
Parents knowledge about preschool children dental treatment under sedation and general anesthesia and mouth care
Rima Adomaitienė

Panevėžio kolegija / University of Applied Sciences

Angelina Naskauskienė

UAB Vivus Sanus
Keywords:
sedation, general anesthesia, oral health
Abstract
Sedation and general anesthesia are based on pharmacological treatment of child behaviour. The main purpose of sedation and general anesthesia processes is the management of children's behaviour and pain control. During sedation or general anesthesia it is possible to provide assistance to non-cooperating children who fights back to the staff or have disabilities, beside in this way it is possible to ensure maximum safety of the child during the procedure. These procedures allow patients to feel safe, reduce psychological discomfort, pain, and anxiety.
The aim of this study was to analyze parents knowledge about preschool children mouth care and dental treatment under sedation and general anesthesia. The objectives are: to analyze the socio-economic conditions of parents whose children have undergone sedation or general anesthesia treatment; to evaluate why parents choose sedation or general anesthesia; to indicate how parents do prevention against dental caries.
The methods of the research: scientific literature analysis, questionnaire, research data description and graphical analysis. Research was made during 2019 years February-March months in Panevezys dental clinic. During Questionnaire 43 respondents responded.
Conclusions: the biggest part of respondents was 31-40 years old, they have higher education, lives in the city, gets average salary in Lithuania and mostly they have two children. The reasons for the choice of dental treatment under sedation or general anesthesia usually are the reluctance to traumatize children with painful procedures, beside complex dental treatment is needed. Only half of parents starts to take care of child teeth on time. A lot of children brush their teeth twice a day, but not all of them do that with parents help. Beside, half of parents disregard to fluoride concentration in toothpaste. Children eat a lot of snacks.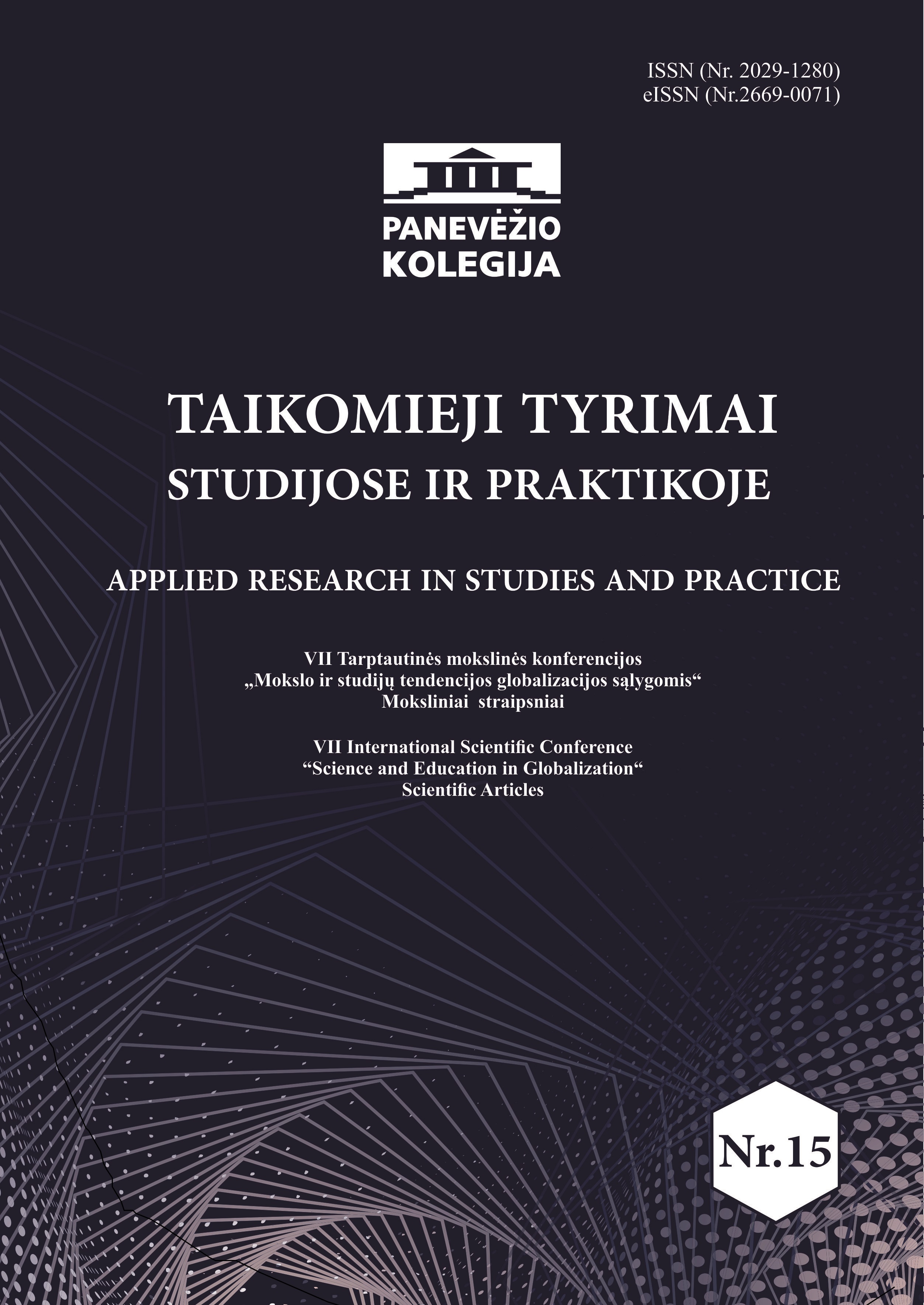 How to Cite
AdomaitienėR., & NaskauskienėA. (2019). IKIMOKYKLINIO AMŽIAUS VAIKŲ TĖVŲ ŽINIOS APIE DANTŲ GYDYMĄ SEDACIJOS IR BENDROSIOS NEJAUTROS ATVEJU BEI BURNOS PRIEŽIŪRĄ: Parents knowledge about preschool children dental treatment under sedation and general anesthesia and mouth care. Taikomieji Tyrimai Studijose Ir Praktikoje - Applied Research in Studies and Practice, 15(1), 105-113. Retrieved from https://ojs.panko.lt/index.php/ARSP/article/view/89
Copyright (c) 2019 Taikomieji tyrimai studijose ir praktikoje - Applied research in studies and practice
This work is licensed under a Creative Commons Attribution 4.0 International License.

This work is licensed under a Creative Commons Attribution 4.0 International License.
Please read the Copyright Notice in Journal Policy.