PILIETINĖS VISUOMENĖS ORGANIZACIJŲ ĮSITRAUKIMAS Į VISUOMENĖS PROBLEMŲ SPRENDIMĄ: KOKYBINIS POŽIŪRIS
Involvement of Civil Society Organizations in Solving Societal Problems: A Qualitative Approach
Gražina Strazdienė

Vilnius College of Technologies and Design
Keywords:
civil society organization, CSO, quality inspection, ollaboration between higher education institutions and CSO
Abstract
Globalization and ongoing change processes are creating new demands for society, business organizations and educational institutions, driving the development of learning technologies, new strategies and patterns. Civil Society Organizations (CSOs) are strategically important participants in societal development, which are expected to play an important role in improving governance and regulations, increasing transparency and involving the public in addressing issues. Due to the lack of human and financial resources, it is difficult for Civil Society Organizations (CSOs) in Lithuania to delve deeper into existing issues and their essence as well as to provide concrete and qualitative solutions. In order to improve the involvement of society in solving societal issues and assist CSOs, higher educational institutions together with students and lecturers need to be involved in solving societal problems through scientific research.
The paper analyzes the phenomenon of involvement of civil society organizations in solving societal problems and reveals the problems faced by CSOs, discusses how cooperation between civil society organizations and higher education institutions has taken place and how the public should be more actively involved in solving societal problems.
A qualitative research was conducted using a semi-structured interview method. The study used targeted sampling. Interviews were conducted with 7 CSOs: 2 associations, 1 volunteer organization, 1 union, 2 public entities (NGOs), 1 community-based group , located in Vilnius and Klaipėda. The results of the study revealed the problems and difficulties faced by CSOs.
Three categories "Societal problems/issues addressed by CSOs", "Difficulties encountered by CSOs in solving societal problems/issues" and "Trends of collaboration between CSOs and HEIs in terms of research" reveal CSOs attitudes to the need for research, current collaboration with HEIs and trends of possible future
It was identified that CSOs address the following issues: socialization problems, sectoral issues, lack of awareness and education. However, it has emerged that some interviewees not only found it difficult to identify societal problems in a broader sense, but also had a rather superficial perception of the research (in other words research activity was considered basically as unrelevant and incomprehensible for them). Interviewees often related societal problems only to professional (specific organizational) issues and organization's activities, which again confirms that research is neither a priority nor an important part of their activities in the future.
CSOs addressing societal challenges encounter the following difficulties: lack of public services, lack of collaboration, insufficient financial resources, lack of information, lack of professionals.
Interviews revealed that the majority of CSOs representatives did not have any experience of collaboration with HEIs in terms of research; they had some certain specific interactions and joint projects, but not for research.
The following trends of possible collaboration between CSOs and HEIs are identified: conducting research, organizing conferences and events, conducting training, dissemination of CSOs activities.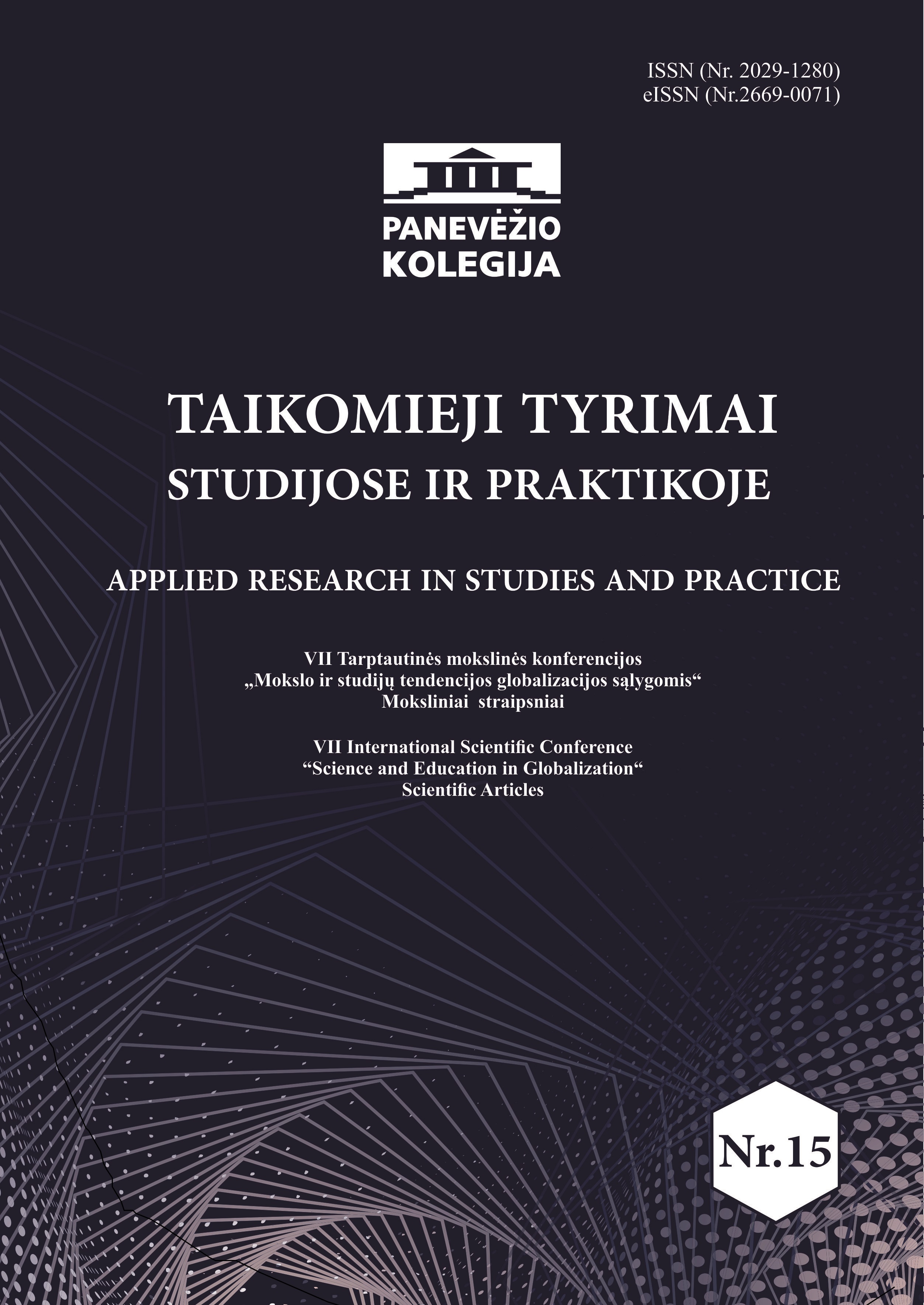 How to Cite
StrazdienėG. (2019). PILIETINĖS VISUOMENĖS ORGANIZACIJŲ ĮSITRAUKIMAS Į VISUOMENĖS PROBLEMŲ SPRENDIMĄ: KOKYBINIS POŽIŪRIS: Involvement of Civil Society Organizations in Solving Societal Problems: A Qualitative Approach. Taikomieji Tyrimai Studijose Ir Praktikoje - Applied Research in Studies and Practice, 15(1), 65-71. Retrieved from https://ojs.panko.lt/index.php/ARSP/article/view/86
Copyright (c) 2019 Taikomieji tyrimai studijose ir praktikoje - Applied research in studies and practice
This work is licensed under a Creative Commons Attribution 4.0 International License.

This work is licensed under a Creative Commons Attribution 4.0 International License.
Please read the Copyright Notice in Journal Policy.